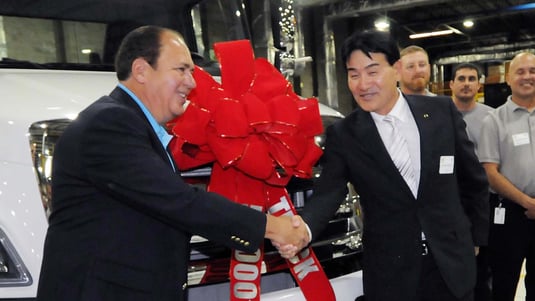 CHARLESTON, W.Va. (June 28, 2016) – Gov. Earl Ray Tomblin today joined business executives from Hino Motor Manufacturing U.S.A., Inc. and nearly 300 team members from the company's Williamstown plant to celebrate the production of the facility's 50,000th truck in West Virginia.
"During my time as governor, I have made it a top priority to sit down with business and industry from around the world to bring jobs to West Virginia for West Virginians and to strengthen our state's business climate," Gov. Tomblin said. "Hino Motor's continued investment in the Mountain State has done just that, and I'm proud they are a member of our West Virginia family. Over the years, our business relationship has transformed into a long-term partnership, and I'm thrilled Hino remains so committed to West Virginia and the people who call our state home. I'd like to personally congratulate them on their years of success, and I look forward to seeing their continued growth in West Virginia for decades to come."
Today's milestone highlights Hino Motor's record growth. Since the company first established its assembly plant and began production in 2007, it has undergone three business expansions and has seen a 30 percent increase in production over the past two years.
"From the very beginning, our mission was to support Hino's growing U.S. market by building high-quality trucks for our customers," said Yoshinori Noguchi, Chairman of Hino Motors Manufacturing U.S.A. "Williamstown team members' focus on safety, quality and their commitment to continuous improvement has contributed to Hino becoming America's fastest growing medium duty truck brand. West Virginia has been and will continue to be an important part of Hino's efforts to expand production in the United States."
Currently, the Williamstown plant is Hino's only assembly plant in the United States, and it has a strong local presence. Nearly three-fourths of the facilities top level management are native to the state, and the local operations provide employment for more than 250 West Virginians.
"By expanding its assembly plant and investing millions in our state, Hino is continuing to create more good jobs, proving that our workers can compete in a world economy, and showing that West Virginia is a great place to do business," U.S. Senator Joe Manchin said. "I was proud and honored to lead the team that brought Hino to our state, and I am so proud of Hino and its team members. I have witnessed firsthand the determination of the entire Hino group to ensuring quality, teamwork and investment in the Williamstown community. Today, I am thrilled to join the Hino team in celebrating 50,000 Hino trucks and all they are sure to accomplish in the future."
"Hino's commitment to producing exceptional quality has become a key component of the brand and their dedication to continuously improving their product has had a positive impact on the local community by creating more job opportunities for West Virginians," said U.S. Senator Shelley Moore Capito. "Congratulations to Hino Motors, employees and leaders on reaching this incredible milestone."
"Hino is emblematic of the diversification we need in West Virginia's economy," Congressman David McKinley said. "Congratulations on this wonderful milestone."
Hino Motors is a major worldwide automotive manufacturer that serves a variety of industries, including food and beverage, construction, towing, waste, sanitation refined fuels, utility and aerial applications. The Wood County plant, which assembles Class 6 and 7 medium duty trucks, began production at a rate of 2 to 10 trucks per day. Since then, production has grown exponentially. The plant is currently producing a new truck every 8.5 minutes, and in total, has assembled 120 million parts since its inception.